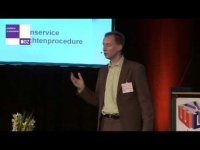 Arnoud Engelfriet
Partner, ICTRecht juridisch adviesbureau
Als webwinkelier krijgt u te maken met een groot aantal juridische regels. Deze zijn bedoeld ter bescherming van de consument, en betekenen dus het nodige werk voor u. Zo gelden er informatieplichten, heeft de klant een recht van retour en kan hij aanspraak maken op wettelijke garantie en gratis reparatie of vervanging. Houdt u zich niet aan uw verplichtingen, dan kan dat tot boetes of zelfs sluiting van uw webwinkel leiden. Maar hoe vertaalt al dat juridisch jargon zich nu naar uw dagelijkse praktijk?
Hobbels waar vrijwel elke webwinkel tegenaan loopt:
* Welke informatie moet er op uw website over uzelf en uw bestelproces?
* Hoe levert u de algemene voorwaarden aan?
* Wanneer mag een klant een product retourneren?
* Moet een retour onaangeroerd in originele verpakking?
* Is het genoeg om de fabrieksgarantie door te geven aan de klant?
* Mogen uw klanten meteen op uw nieuwsbrief?